Web platform v1.1 Assembled
Assembled PIC 33F Web Platform, constructed from files and firmware posted by DangerousPrototypes.com.
Model:THM106B3P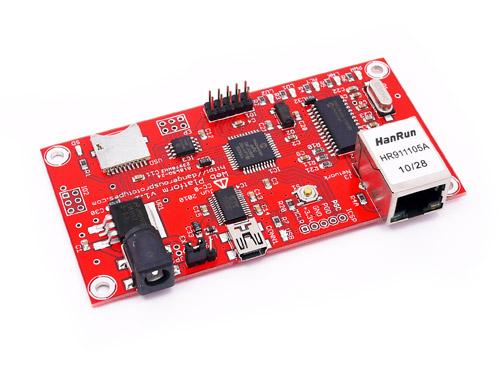 Features
80MHz/40MIPS dsPIC33FJ128GP204
10Mbps ethernet MAC/PHY (ENC28J60)
microSD card holder
1Mbit EEPROM
USB->serial converter (FTDI232R)
Open source bootloader for USB firmware uploads

PCB color will be RED. Web platform are currently being manufactured and should start shipping in January, 2010. This picture shows a hand soldered prototype, the manufactured version will differ slightly.
Application Ideas
Application1
Application2
Application3
Cautions
The warnings and wrong operations possible cause dangerous.
Schematic
It is the schematic, the circuit about Eagle resource like .pdf should linked here in order to avoid memory exhausted.
Specification
May include key specification and other specifications.
Pin definition and Rating
Mechanic Dimensions
Usage
Hardware Installation
Programming
Includes important code snippet. Demo code like :
Example
The projects and application examples.
Bill of Materials (BOM) /parts list
All the components used to produce the product.
FAQ
Please list your question here:
Support
If you have questions or other better design ideas, you can go to our forum or wish to discuss.
Version Tracker
| Revision | Descriptions | Release |
| --- | --- | --- |
| v1.1 | Updated release | Dec 11, 2009 |
Bug Tracker
Bug Tracker is the place you can publish any bugs you think you might have found during use. Please write down what you have to say, your answers will help us improve our products.
Additional Idea
The Additional Idea is the place to write your project ideas about this product, or other usages you've found. Or you can write them on Projects page.
Resources
How to buy
Click here to buy: http://www.seeedstudio.com/depot/web-platform-v11-assembled-p-582.html?cPath=174.
See Also
Other related products and resources.
Licensing
This documentation is licensed under the Creative Commons Attribution-ShareAlike License 3.0 Source code and libraries are licensed under GPL/LGPL, see source code files for details.
External Links
Links to external webpages which provide more application ideas, documents/datasheet or software libraries
Copyright (c) 2008-2016 Seeed Development Limited (
www.seeedstudio.com
/
www.seeed.cc
)
This static html page was created from http://www.seeedstudio.com/wiki