Photo Reflective Sensor
This is a reflective sensor combines a GaA1As infrared light emitting diode with a high sensitive Darlington phototransistor in a mini package.
Model: SEN130A3B
http://www.seeedstudio.com/depot/images/product/rs081.jpg
Features
Compact
High performance
High output
Easy to mount on PCB
Widely applicable
Application Ideas
Timing sensors
Edge sensors
Micro floppy disc drivers
Level sensors of liquid
Cautions
The warnings and wrong operations possible cause dangerous.
Schematic
It is the schematic, the circuit about Eagle resource like .pdf should linked here in order to avoid memory exhausted.
Specification
Maximum Ratings (Ta=25℃)
Item
Symbol
Rating
Unit
Input
Power Dissipation
PD
100
mW
Reverse Voltage
VR
5
V
Forward Current
IF
50
mA
Pulse Forward current * 1
IFP
1
A
Output
Collector Power Dissipation
Pc
100
mW
Collector Current
Ic
20
mA
C-E Voltage
VCEO
30
V
E-C Voltage
VECO
5
V
Operating Temperature
Topr
-10~+65
℃
Storage Temperature
Tstg
-25~+85
℃
Soldering Temperature *2
Tsol
260
℃
Electro-optical Characteristics (Ta=25℃)
Item
Symbol
Conditions
Min
Typ
Max
Unit
Input
Forward Voltage
VF
IF=20mA
1.2
1.6
V
Reverse Current
IR
VR=5V
10
µA
Capacitance
Ct
V=0V, f=1kHZ
25
pF
Peak Wavelength
λP
940
nm
Output
Collector Dark Current
ICEO
VCE=20V
0.1
µA
Light Current
IL
VCE=5V,IF=20mA
50
µA
Leakage Current
ICEOD
VCE=5V,IF=10mA
1
µA
Switching Speeds
Rise Time
tr
Vcc=5V, Ic=1mA, RL=1kΩ
15
µsec
Fall Time
tf
15
µsec
Pin definition and Rating
Mechanic Dimensions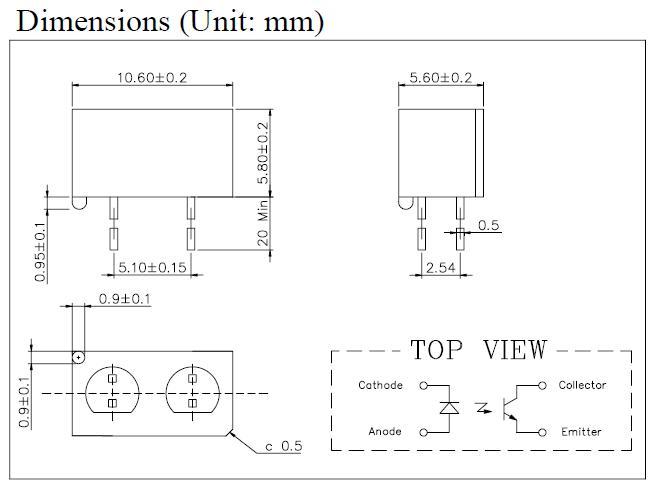 Usage
Hardware Installation
Programming
Includes important code snippet. Demo code like :
Example
The projects and application examples.
Bill of Materials (BOM) /parts list
All the components used to produce the product.
FAQ
Please list your question here:
Support
If you have questions or other better design ideas, you can go to our forum or wish to discuss.
Version Tracker
| Revision | Descriptions | Release |
| --- | --- | --- |
| v0.9b | Initial public release | Oct 08, 2009 |
Bug Tracker
Bug Tracker is the place you can publish any bugs you think you might have found during use. Please write down what you have to say, your answers will help us improve our products.
Additional Idea
The Additional Idea is the place to write your project ideas about this product, or other usages you've found. Or you can write them on Projects page.
Resources
The resources need to be downloaded, like Eagle file, Demo code, project or other datasheet.
How to buy
Click here to buy: http://www.seeedstudio.com/depot/photo-reflective-sensor-p-543.html?cPath=144_148.
See Also
Other related products and resources.
Licensing
This documentation is licensed under the Creative Commons Attribution-ShareAlike License 3.0 Source code and libraries are licensed under GPL/LGPL, see source code files for details.
External Links
Links to external webpages which provide more application ideas, documents/datasheet or software libraries
Copyright (c) 2008-2016 Seeed Development Limited (
www.seeedstudio.com
/
www.seeed.cc
)
This static html page was created from http://www.seeedstudio.com/wiki