P9325A-Philips 8P adult finger clip blood oxygen probe
Product Diagram
P9325A-Philips 8P adult finger clip blood oxygen probe
Model:P9325A-Philips 8P adult finger clip blood oxygen probe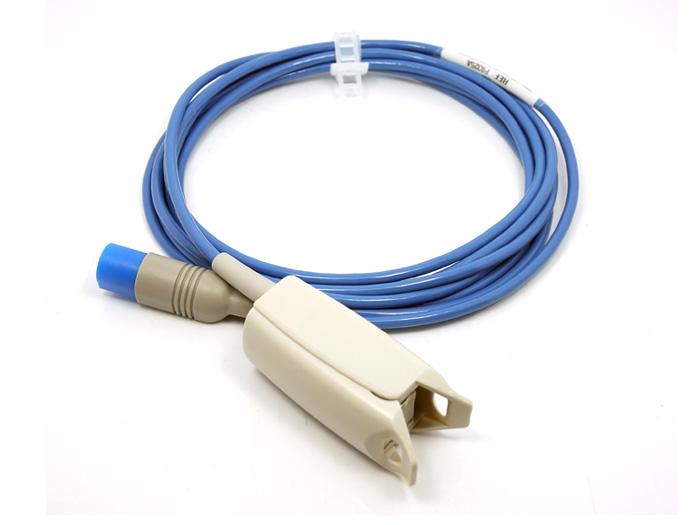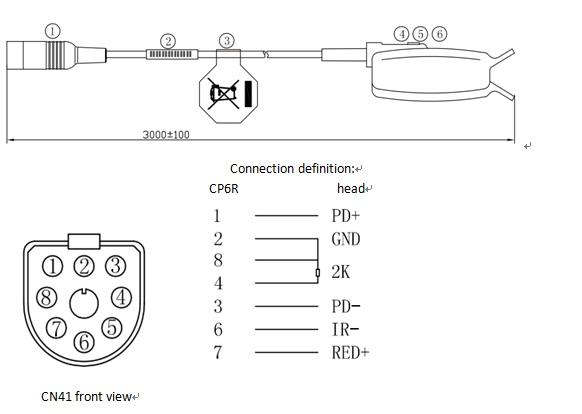 Product Specification
Sequence number
Material code
Name Specification
Number
1
VQB325A
Headless HP 8P blue 4.0 oxygen lines,
TPU outside, braided screened
1PCS
2
VFZ0002
Product model heat-shrinkable tubing
1PCS
3
VFZ0001
Environment protection labels
1PCS
4
VST0001
Aiviter adult clips
1PCS
5
VCP0002
Imported LED
1PCS
6
VCP0001
Imported PD receiving tube
1PCS
Performance Requirements
Sequence number
Test project
Test condition
Test result
1
length
The total length of probe is 3000mm
Plus and minus100 mm
2
Continuity test
100% continuity
No shorted or open circuit ,poor connection
3
WitMan-machine test
Need man-machine Test,
(healthy volunteers under normal temperature,
Less than 1000 meters above sea level)
Value of blood oxygen >95%
4
Simulate test
Simulator blood oxygen Testing point:97%,93%,90%,80%


analog test point:200,160,80,70,60

Meet blood oxygen 90%~100% error ±2%,
70%~89% error ±3%,
Less than 70% no definition,
Pulse rate value ±2BPM.
5
Weak perfusion
When weak perfusion was 7%,test
Value of blood oxygen
and pulse rate are displayed correctly
FAQ
Here is FAQ,users can list the Frequently Asked Questions here, example as below:
Support
If you have questions or other better design ideas, you can go to our forum or wish to discuss.
Version Tracker
Bug Tracker
Bug Tracker is the place you can publish any bugs you think you might have found during use. Please write down what you have to say, your answers will help us improve our products.
Additional Idea
The Additional Idea is the place to write your project ideas about this product, or other usages you've found. Or you can write them on Projects page.
How to buy
Here to buy P9325A-Philips 8P adult finger clip blood oxygen probe
See Also
Other related products and resources.
Licensing
This documentation is licensed under the Creative Commons Attribution-ShareAlike License 3.0 Source code and libraries are licensed under GPL/LGPL, see source code files for details.
External Links
Links to external webpages which provide more application ideas, documents/datasheet or software libraries
Copyright (c) 2008-2016 Seeed Development Limited (
www.seeedstudio.com
/
www.seeed.cc
)
This static html page was created from http://www.seeedstudio.com/wiki