Black Widow 1.0
The BlackWidow is an Arduino Duemilanove compatible clone that has 802.11b wireless connectivity baked directly onto the board. The components have been switched out for surface mount equivalents to free up space for the wireless module. It is fully compatible with the Processing/Wiring IDE. The BlackWidow will give your Arduino projects added wireless connectivity without the need for additional bulky shields!
Model:ARD125A2P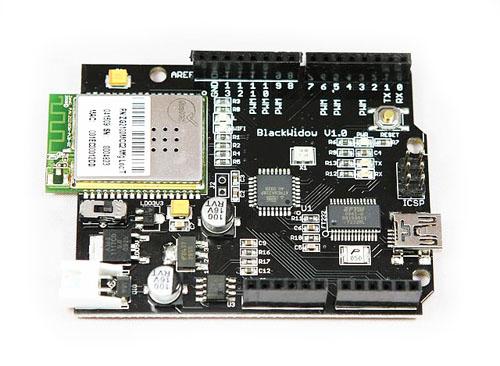 Features
size compatible with existing Arduino Duemilanove and Diecimila boards
up to 14 digital I/O pins[1]
6 analog input pins
Atmel Mega 328P microprocessor

32KB flash RAM (2KB used for bootloader)
2KB SRAM
1KB EEPROM

lower profile USB 5-pin mini-B connector
auto-switchable power between USB and external DC power
2-pin JST connector allows for more varied external power options (JST to DC barrel jack, Litihium-ion battery pack, etc.)
802.11b 1 and 2 mbps wireless connectivity
on-board PCB antenna
switchable interrupt between INT0 and digital pin 8
supports infrastructure mode (BSS) and adhoc (IBSS) network modes
support for WEP, WPA, and WPA2 security
LED attached to digital pin 9 used to indicate a successful wireless connection
Application Ideas
Cautions
Schematic
It is the schematic, the circuit about Eagle resource like .pdf should linked here in order to avoid memory exhausted.
Specification
May include key specification and other specifications.
Key Specification
Pin definition and Rating
The image is come from async_labs wiki:
http://asynclabs.com/wiki/images/5/5a/BlackWidow.JPG
Mechanic Dimensions
Usage
For WiFi usage, a minimum of 5 digital pins are required: 4 for SPI and 1 for interrupt. The interrupt is switchable between digital pin 8 and digital pin 2. The SPI bus can be shared with other SPI devices, but the CS pin cannot be modified from pin 10. Your other SPI device must have a switchable SPI CS pin, or a hardware modification needs to be performed.
Hardware Installation
Programming
Includes important code snippet.
Example
The projects and application examples.
Bill of Materials (BOM) /parts list
All the components used to produce the product.
FAQ
Please list your questions here:
Support
If you have questions or other better design ideas, you can go to our forum or wish to discuss.
Version Tracker
| Revision | Descriptions | Release Date |
| --- | --- | --- |
| V1.0 | Initial public release | Dec 27, 2010 |
Bug Tracker
Bug Tracker is the place you can publish any bugs you think you might have found during use. Please write down what you have to say, your answers will help us improve our products.
Additional Idea
The Additional Idea is the place to write your project ideas about this product, or other usages you've found. Or you can write them on Projects page.
Resources
How to buy
Click here to buy : http://www.seeedstudio.com/depot/blackwidow-10-p-613.html?cPath=132_136.
See Also
Other products and resources.
Licensing
This documentation is licensed under the Creative Commons Attribution-ShareAlike License 3.0 Source code and libraries are licensed under GPL/LGPL, see source code files for details.
External Links
Links to external webpages which provide more application ideas, documents/datasheet or software libraries
Copyright (c) 2008-2016 Seeed Development Limited (
www.seeedstudio.com
/
www.seeed.cc
)
This static html page was created from http://www.seeedstudio.com/wiki