2V Hexagon LED Panel Kit
2V Hexagon LED panel kit is designed for the abecedarian to learn how to solder and also for who want to make colourful LED design.
It is easy to solder various LED figures on the panel such as heart,square and whatever you imagine. You just need to connect the power to the panel after soldering the LEDs on it, it will lighten and show the figure.
One Panel is not enough? We also have 2V LED Panel as Expansion pack, Just think about what you want to build.
Model:KIT02241P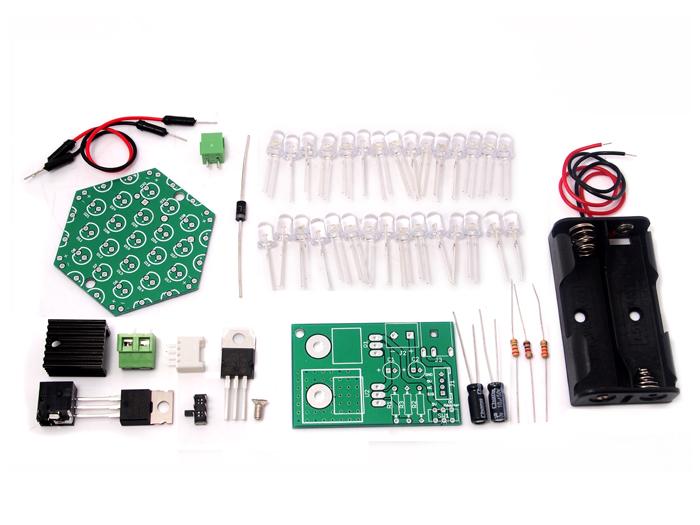 Features
The kit supports the LED which the rated voltage is 2V like red, yellow, orange LED. It is different from the 3V Hexagon LED kit.
Both two AA battery can power the LED panel.
The LED panel is hexagon, which is easy for you to connect several panels together to make a big LED figure, even a football.
Soldering two LEDs between two LED panel can connect them firmly.
Pack list
The kit includes one 2V LED panel PCB board(Green), 27pcs LEDs, Drive board and some electronic components.
2V LED Panel (27 red LEDs)
"AA" battery holder
Cautious
This LED panel only supports the 2V rated voltage LED like the red, yellow, orange LED. If you use the 3v LED such as Green one soldered on the panel, it will be burned out.
So, be careful which color LED  you soldered on the panel. An easy way to distinguish the LED is using a 3v Button Cell to test the LED.

2V rated voltage LED
Red LED
Yellow LED
Orange LED
3V rated voltage LED
Green LED
Blue LED
White LED
Purple LED
colourful LED
Usage
Connect several LED panel to make a big one.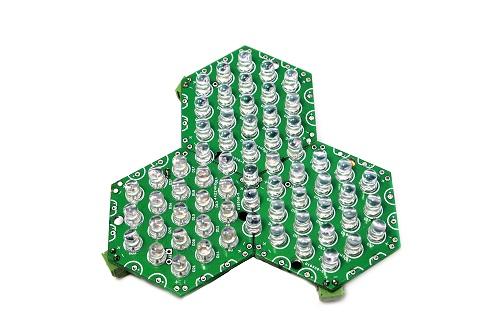 Light the panel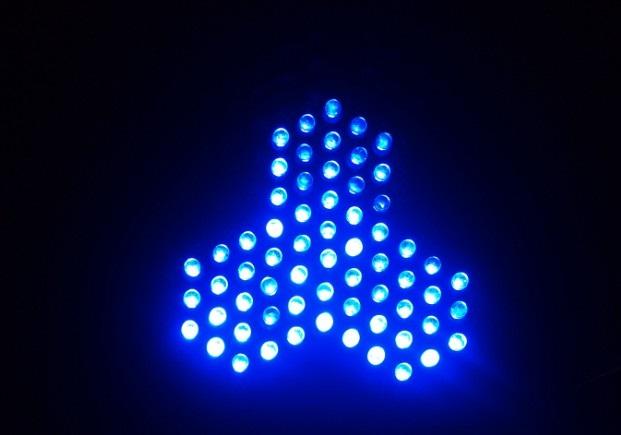 LED drive[Not included]: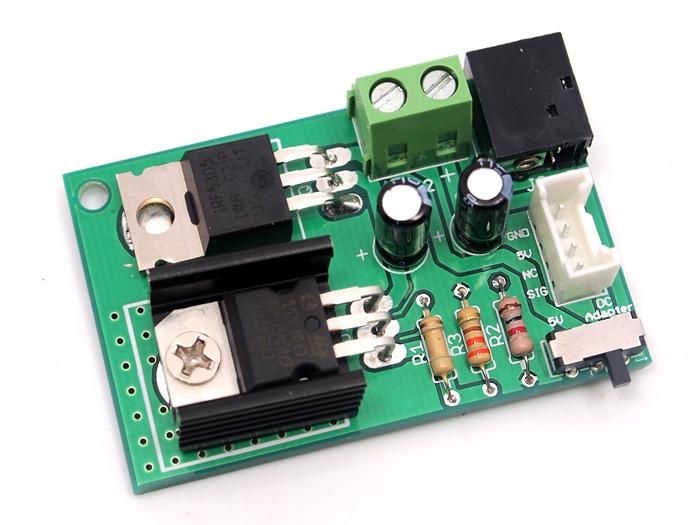 See Also
www.seeedstudio.com
/
www.seeed.cc
)
This static html page was created from http://www.seeedstudio.com/wiki